Australia's Own Organic Soy Unsweetened Milk No Added Sugar 1L
Product Highlights
ACO Certified Organic.
Free from GM ingredients, cholesterol, artificial colours, flavours and preservatives.
Vegan Friendly
Delicious unsweetend soy milk.
(Do not consume if seal is broken)
(Not suitable as a complete milk replacement for children under the age of 5 years.)
9 in stock
Free 2-Day Shipping & Free Returns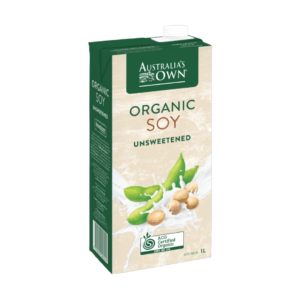 Australia's Own Organic Soy Unsweetened Milk No Added Sugar 1L
Description
Ingredients:
Filtered Australian Water,
Milled Organic Soy Beans (4.7%),
Organic Sunflower Oil,
Salt,
Acidity Regulator (Sodium Bicarbonate),
Stabiliser (Carrageenan).