Butterfingers Pure Butter Shortbread Petticoat Tails 150gm
Product Highlights
Delicious
Petticoat Tails Shortbread
150g NET
Made with Butter as well, a shortbread!
Amazing for picnics, or a snack during a roadtrip! Perfect for almost any occasion.
6 in stock
Free 2-Day Shipping & Free Returns
New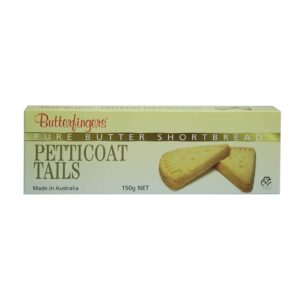 Butterfingers Pure Butter Shortbread Petticoat Tails 150gm
Description
Ingredients:
Wheat flour (includes Thiamin, Folate),
Butter (includes salt) (30%),
Sugar.
Allergen Statement:
This product contains wheat, soy and dairy. This product is made on equipment that also manufactures products containing tree nuts and milk products.
STORE IN A COOL DRY PLACE AND OUT OF DIRECT SUNLIGHT.