Byron Bay Chilli Co. Smokin Mango Chilli Sauce (HOT) 250ml
Product Highlights
Gluten-free
Zesty tomato-based sauce with sweet & heat
Great for cooking & grilling plus as a dip or condiment
Recommended for anything barbecued
Australian Made
15 in stock
Free 2-Day Shipping & Free Returns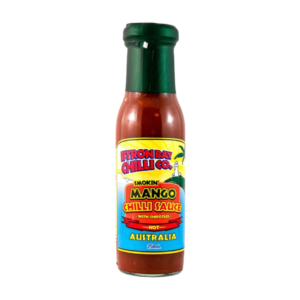 Byron Bay Chilli Co. Smokin Mango Chilli Sauce (HOT) 250ml
Description
Byron Bay Chilli Co. Smokin Mango Chilli Sauce
A mango twang with a tomato backup, three kinds of chillies, jalapeno, cayenne, and chipotle (smoked jalapeno).This sauce will treat you to a new level of bbq sophistication. For those who require zest in their tomato sauce.
Product Description
Byron Bay Chilli Smokin Mango Chilli Sauce takes the familiar formula for barbecue sauce greatness – tangy tomatoes, sweetness and spice – and adds a few new and delicious ingredients to the equation with mouthwatering mangoes, jalapeños both fresh and smoked (chipotles), and of course some cayenne to round it all out. Hotter, tastier, and more flavourful, this is the sauce that will satisfy for all your barbecuing needs.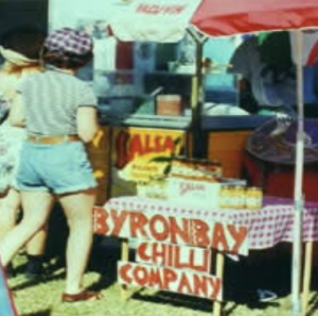 It started with a chilli patch…
What began in the Byro
n Bay hinterland twenty five years ago is now a world famous range of chilli sauces, corn chips and salsas…brought to you by the Byron Bay Chilli Com
pany.
It all started with a chilli patch on a hill overlooking Byron Bay. With a little help from a friendly farmer and some good compost from the old Byron Piggery, there were soon more jalapeno chillies than we knew what to do with.
So we set up a Mexican food stall at the Byron and Bangalow markets. To go with our burritos, tacos and nachos we started making our own chilli sauces, salsas and corn chips the way we like them.
Since then, Byron Bay Chilli Company has grown into an international brand, winning stacks of awards on three continents, including the Grand Prize Scovie Award from New Mexico, for best tasting chilli sauce. Try our products for yourself and find out why…