Byron Bay Chilli Co. Spicy Lemongrass Chilli Sauce with Coriander (medium) 250ml
Product Highlights
Gluten-free
Sweet-hot sauce with a citrus tang
Great for cooking & grilling plus as a dip or condiment.
Recommended for fish taco and grilled mangoes
Australian Made
15 in stock
Free 2-Day Shipping & Free Returns
Byron Bay Chilli Co. Spicy Lemongrass Chilli Sauce with Coriander (medium) 250ml
Description
Byron Bay Chilli Co. Spicy Lemongrass Chilli Sauce with Coriander
The old favorite made more savoury with fresh lemongrass, fresh coriander and extra hot chilli. Forget other sweet chilli sauces after thisone, the blend of sweet, heat, and citrus is perfect. Argueably the nicest all-round, works-with-anything chilli sauce in this sector of the universe. Try some on grilled mango, or a fish taco.
Product Description
Byron Bay Chilli Spicy Lemongrass Chilli Sauce with Coriander is BBCC's take on sweet chilli sauce, and that means it's different to any sweet chilli sauce you've tried before, with a little more heat and a lot more flavour from a citrusy mix of lemongrass and coriander. Yes, it still goes with just about everything – it just goes better.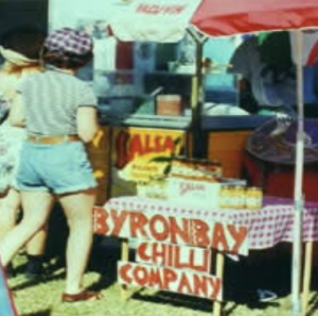 It started with a chilli patch…
What began in the Byron Bay hinterland twenty five years ago is now a world famous range of chilli sauces, corn chips and salsas…brought to you by the Byron Bay Chilli Com
pany.
It all started with a chilli patch on a hill overlooking Byron Bay. With a little help from a friendly farmer and some good compost from the old Byron Piggery, there were soon more jalapeno chillies than we knew what to do with.
So we set up a Mexican food stall at the Byron and Bangalow markets. To go with our burritos, tacos and nachos we started making our own chilli sauces, salsas and corn chips the way we like them.
Since then, Byron Bay Chilli Company has grown into an international brand, winning stacks of awards on three continents, including the Grand Prize Scovie Award from New Mexico, for best tasting chilli sauce. Try our products for yourself and find out why…