Kotex Liners Daily Odor Care Regular Pantyliner 2x32s
Product Highlights
Daun Sirih Extract: helps control unwanted odor
Active-Air System: helps your skin breathe naturally
Rapid Absorb Layer: With micro holes that helps absorb wetness quickly
Cottony-Soft Cover: designed to help prevent irritation.
6 in stock
Free 2-Day Shipping & Free Returns
New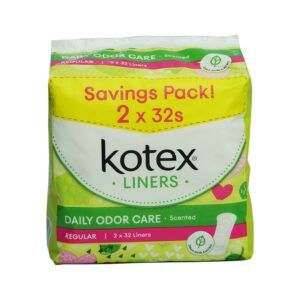 Kotex Liners Daily Odor Care Regular Pantyliner 2x32s
Description
Daily wetness is normal and can come from discharge, sweat or wet toilet habiting.
That's why Kotex DAILY ODOR CARE Liners are designed to help absorb unwanted daily wetness so you can stay comfortable, fresh and clean every day.