LOreal Paris Revitalift Laser X3 Anti-Aging Transforming Eye Cream 15ml
Product Highlights
1st anti-ageing intensive anti-ageing eye Care solution from L'Oreal Paris
Instantly refines texture, and reduces eye puffiness for skin transformation around the eyes
Pro-Xylane + Adenosine for increased hydration & skin elasticity
Use daily in the morning & night for a cleansed and hydrated feeling around the eyes
Ophtalmologically Tested Suited for oily, dry & all skin types
Free 2-Day Shipping & Free Returns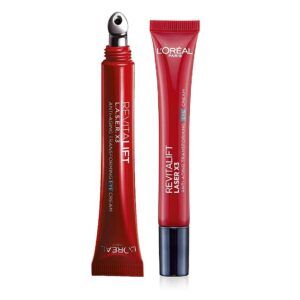 LOreal Paris Revitalift Laser X3 Anti-Aging Transforming Eye Cream 15ml
Description
RESULTS:
Immediately, eye contour is moisturized. Skin texture around eyes is refined and smoother. Day after day, wrinkles and eye bags are significantly reduced. Skin is plumpier, more even, and eye contour is more radiant.
TEXTURE:
Silky light texture immediately penetrates into skin, leaving it hydrated incredibly smooth and supple around the eyes. Non fragranced.
USAGE:
Use daily in the morning and evening on cleansed skin around the eyes. Gently apply the cream with the cooling metallic applicator and massage around eye contours.
PRO-XYLANE: An active ingredient known for boosting skin's fundamental substance, stimulating collagen synthesis to improve skin density and plumpiness.
ADENOSINE: A well-known anti-aging active ingredient to smooth out wrinkles.
CAFFEINE: Diminish eye puffiness
TRIPLE ACTION FOR A NEW YOUTHFUL EYE LOOK
CORRECT WRINKLES :

Reduce wrinkles with adenosine to smooth out line and refine skin texture .

UNPUFF : Diminish eye puffiness with caffeine and metalic applicator for an icy cooling effect.
RETIGHTEN : restore skin tonicity with concentrated Pro-Xylane to retighten and refirm skin around eyes.