LOreal Paris White Perfect Total Recover Sleeping Mask 50ml
Product Highlights
Total perfect skin recover.
Sleeping mask
Fight signs of aging on 8 key zones of your face
Fight wrinkles and regain firmness
Skin looks more even making skin look younger texture is refined, complexion
Free 2-Day Shipping & Free Returns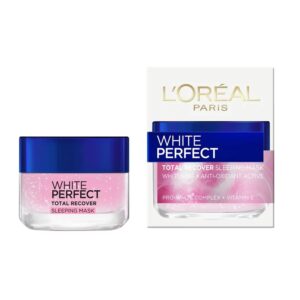 LOreal Paris White Perfect Total Recover Sleeping Mask 50ml
Description
THE L'OREAL EXPERTISE
White Perfect Total Recover Sleeping Mask is a new generation of night cream, developed by L'Oreal skincare laboratories. Its unique jelly texture delivers powerful whitening efficacy and intense hydration.
ENCAPSULATED ANTI-OXIDANT VITAMIN E: Upon application, hundreds of beads liberate Vitamin E capable of neutralizing free radicals and the damage caused by daily oxidative aggression.
POWERFUL WHITENING TECHNOLOGY: Combines Vitamins B3 and CG to help lighten dark spots, reduce pigmentation and even out skin tone.
The truth about your skin; at night, skin is more receptive to skincare actives.
White Perfect Total Recover Sleeping Mask combines the powerful whitening technology (Vitamin B3 + CG) with encapsulated anti-oxidant (Vitamin E) to provide phenomenal results:
UPON AWAKENING – Skin is visibly translucent, more luminous, hydrated and smooth.
AFTER 8 WEEKS – Dark spots become visibly lighter, skin tone becomes fairer and even.
Skin texture is improved and becomes soft and refined.
Whitening:
Lighten dark spots
Reduce pigmentation
Even out skin tone
Anti-oxidants:
Neutralize free radicals
Reverse damage of daily aggression