Organic Alce Nero Pasta Fusilli Tricolore 100% Italian Durum Wheat, 500g
2 in stock
Free 2-Day Shipping & Free Returns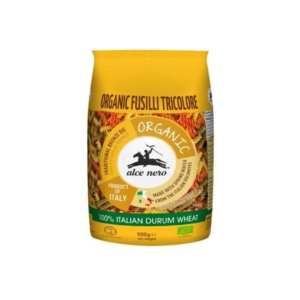 Organic Alce Nero Pasta Fusilli Tricolore 100% Italian Durum Wheat, 500g
Description
Made from 100% organic Italian durum wheat semolina, Alce Nero Organic Fusilli Tricolore Pasta brings a healthy taste of Italy to your kitchen.
You can now enjoy delicious pasta meals without having to worry about weird chemicals in your food.
Key Information Made exclusively with organically grown Italian durum wheat from Lombardy, Tuscany, Lazio, Basilicata, Puglia and Sicily.
The special bronze drawing process gives it a rough surface, making it perfect for absorbing sauces.
The long process of drying at low temperatures keeps the wheat's excellent natural properties intact, completing an exacting production cycle that pays meticulous attention to quality.
Country of Origin Italy Dietary Halal Organic