Peak Women's Cushion Running Shoes Black Meiange Grey EW94208H
Product Highlights
These women's athletic shoes as a lightweight running shoe.
It's always a pleasure to run when your running shoe fits well under your foot and doesn't chafe.
The unobtrusive design doesn't limit the use of these women's running shoes to just running or exercising in the gym.
You can easily wear these sneakers for city walks or match with any wardrobe item.
Free 2-Day Shipping & Free Returns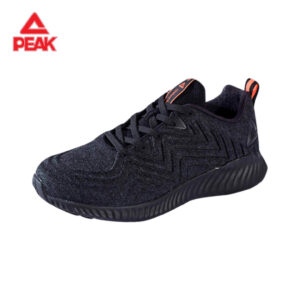 Peak Women's Cushion Running Shoes Black Meiange Grey EW94208H
Description
PRODUCT INFORMATION:
– Body: thick knit fabric, hugging the legs but still ensuring the ventilation.
– The insole part: lined with absorbent and breathable fabric.
– Cushion part: Cushion-3 consists of 3 types of materials that absorb shock, reduce impact force on the heel, give a smooth feeling when running.
– Outsole: Light RB rubber material makes the shoe lighter, reducing the load on the foot when running. The base pattern has anti-slip deep grooves, ensuring user safety.
Pattern: simple, modern and personality zic-zac motifs.
– Suitable for use: jogging, sports activities and common activities such as going to work, going out, going to school.