Pensonic 68L Electric Oven PEO-6804
Product Highlights
This electrical oven is a staple appliance to anyone's kitchen with multiple features and functions that can make your cooking operation that much easier.
For instance, this oven can support a plethora of cooking methods like 'upper with rotisserie' alongside core functions of toast, grill and bake. Therefore, this oven is versatile and can assist anyone greatly in their daily cooking.
As for the interior, it is built with inner lighting that gives it a beautiful outlook and users can admire the process of the oven during operation.
Out of stock
Email when stock available
Out Stock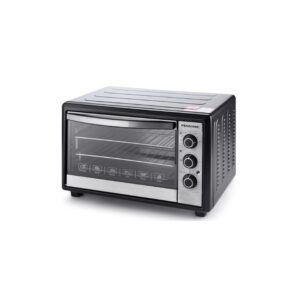 Pensonic 68L Electric Oven PEO-6804
Description
Specification:
60 minutes timer with chime
Adjustable temperature control
Automatic shut off
Heater and function selector for:

Upper and lower with convection
Lower with convection
Upper and lower
Upper with rotisserie
Upper and lower with convection and rotisserie

Toast, grill and bake
With inner light
Accessories: Bake tray, wire rack, tray handle, rotary fork set with handle, crumb tray
Actual Product Measurement: 64(L) x 47.7(W) x 40.8(H) (cm)