Planters Select Cashews, Almonds & Pecans 233g
Out of stock
Email when stock available
Out Stock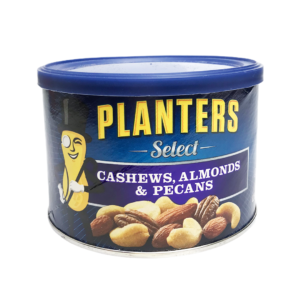 Planters Select Cashews, Almonds & Pecans 233g
Description
Offering a crunchy combination of peanuts, almonds, cashews, hazelnuts and pecans, Planters Mixed Nuts are a perfect on-the-go snack to curb your cravings. Our mixed nuts have sea salt for a savory flavor that always satisfies. Less than 50% of the mix consists of peanuts, so everyone can find their favorite nuts. Sprinkle these Kosher mixed nuts over salads as a topping or serve them with soups.
Allergens
Almond Tree Nuts, Cashew Tree Nuts, Pecan Tree Nuts, Tree Nuts
Ingredients
CASHEWS, ALMONDS, PECANS, PEANUT AND/OR COTTONSEED OIL, SEA SALT.