UGREEN 10000MAH MINI QUICK CHARGING POWER BANK (DIGITAL DISPLAY) #80749
Product Highlights
WARRANTY – 12 MONTHS
2 in stock
Free 2-Day Shipping & Free Returns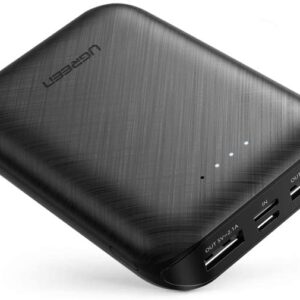 UGREEN 10000MAH MINI QUICK CHARGING POWER BANK (DIGITAL DISPLAY) #80749
Description
Description
Travel-friendly USB C portable charger.
Features
·       
LED Digit Battery Display
o  
The LED shows the charging
and remaining battery capacity, allowing you access the latest status of the
power bank.
·       
Stylish and Anti-fingerprint
o  
Textured exterior makes
this mini power bank not only stylish but also anti-fingerprint.
·       
Easy to Grab and Go
o  
Built with ultra-small and
slim design, this power bank 10000mAh enables you to fast charge your devices
anywhere and anytime even on the plane, no worries about power-off.
·       
10000mAh Power Bank
o  
USB C Port: Provides up to
2.5X faster charging for PD supported devices. eg. iPhone 11 can be charged
from 0% to 50% in 0.5hr.
o  
USB A Port: Comply with QC
3.0/2.0 FCP AFC, the external battery pack charges your devices up to 4X
faster.
·       
Faster Recharge Choice
o  
With a 18W charger adapter,
the usb c power bank will be fully charged in 3.3hrs.