Verbatim 120CM 3-in-1 Metallic Micro-USB With Lightning & Type-C Cable
Product Highlights
Warranty: 12-months.
1 in stock
Free 2-Day Shipping & Free Returns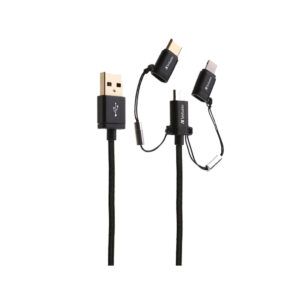 Verbatim 120CM 3-in-1 Metallic Micro-USB With Lightning & Type-C Cable
Description
With interchangeable Micro-USB, Lightning & Type C joint-connectors.
Suitable for most of the iOS & Android devices for charging and data transfer.
Made with nylon braided material in line with the 24AWG standard, this cable is tough and durable.
Pure copper wires inside to enhance performance.
Allows up to 2.4A current output and 480MB/s transmission speed.