Verbatim 2in1 Metallic Micro-USB Cable & Lightning Connector 30cm
Product Highlights
Warranty: 12-months.
5 in stock
Free 2-Day Shipping & Free Returns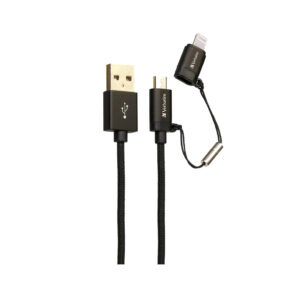 Verbatim 2in1 Metallic Micro-USB Cable & Lightning Connector 30cm
Description
Meets both Andorid and iOS users'
need
2-in-1 Cable comes with microUSB
and Lightning 8pin connectors.
Supports data transmission and charging
functions for smartphones and tablets.
Apple MFi certified.
Made with tough and durable nylon
and AWG standard materials.
Adopted high efficient pure copper
wires inside and supported up to 2.4A output.